The Coalition
for Justice in
Hawaiian Gardens and Jerusalem
The Story of Moskowitz and Hawaiian Gardens
Letter to Attorney General Bill Lockyer
Support The Coalition
If you believe in the Middle East Peace Process and would like to support the work of the Coalition for Justice in Hawaiian Gardens and Jerusalem, your donation will be used to support this vitally important process and prevent further bloodshed. Soon you will be able to donate via credit card right over the web, using a sure, encrypted donation form provided bvy Authorize.Net.
The Coalition is a non-profit organization
and your donation is tax deductible.
Please check back here for a secure online donation form soon!
Thank you for your donation. Please be sure that the amount you have entered is what you intended to give, as our small staff does not permit us to have an automatic refund policy.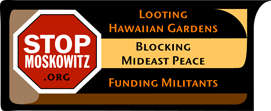 ---

Coalition for Justice in
Hawaiian Gardens and Jerusalem
PO Box 1471
Hawaiian Gardens, CA 90716
Phone: (310) 910-9153
Fax: (310) 286-7109
If you would like more information or to talk with someone, please feel free to call or e-mail the Project Coordinator.
We thank you for your time and interest.