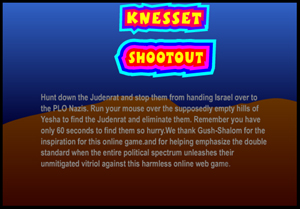 See the assassination game for yourself
[requires Shockwave Flash player]
Read the February 21, 2000 Yedioth Aharonot story describing the assassination game and Cherna Moskowitz's connection with it
We informed Governor Davis, Attorney General Lockyer, and the media about the shocking violence of the Moskowitz-registered game.
Read the Coalition's letter to California Governor Gray Davis

Read the Coalition's letter to California Attorney General Bill Lockyer

Read the Coalitions' news release concerning this hate website [in .pdf format]

How do we know that Cherna Moskowitz was responsible for the assassination game?
When one California official questioned Moskowitz's connection to the website, we wrote to Dudi Goldman, the Israeli reporter for Yedioth Aharonot, asking him for proof that Cherna Moskowitz had registered the site. Goldman kindly forwarded us an email he had received from Didi Remez of the Israeli organization Peace Now. Remez had had the foresight to do a "domain name" or "reverse lookup" search for the registration and to save the results of his search, which clearly show Cherna Moskowitz the registered owner of the assassination game site. Chillingly, she registered it as "Ehudbarak.net." Someone else has since bought that domain name. Click here to see the Goldman-Remez email exchange which contains Moskowitz's registration.
Moskowitz threatens to sue newspaper
Coalition Co-director Rabbi Haim Dov Beliak was traveling in Israel when the Yedioth Aharonot reported on the violent assassination game website registered to Cherna Moskowitz, wife and business partner of Irving Moskowitz. Beliak contacted the Yedioth Aharonot reporter, who told him Irving Moskowitz had threatened to sue the paper, but his editor stood by his story.

Beliak recalls:

I contacted the reporter, Dudi Goldman, who broke the story. He told me about how he traced the web site to Cherna Moskowitz and even called what turned out to be her home phone and spoke with her. (It was a brief conversation, because she hung up on him.)

Mr. Goldman also told me that an attorney, Mr. Geva, who represents Irving Moskowitz, had called his editor demanding that the paper retract the story and threatening to sue if it didn't. Mr. Goldman said his editor demanded to see his research and notes. Then, warning that "in Israel we are not too delicate," Mr. Goldman said his editor was terse: "Mr. Geva, go f-ck yourself. Sue us!"

Note: Four years later - in January 2004 - during a hearing by the California Gambling Control Commission, Moskowitz's representatives said that Cherna Moskowitz was not responsible for the assassination game, that her webmaster had used her identity and posted it without her authorization, and that Moskowitz had successfully sued the webmaster. After reviewing the court case, the Coalition remains skeptical. For additional details, please click here to read our response to Moskowitz's rebuttal at the January hearing.
Please also read Rabbi Haim Dov Beliak's essay Vigilance to Prevent Violence