A Small City In A Big War
by Dan Walters
25 September 2000
Sacramento Bee
"This tiny, impoverished and predominantly Latino city in southern Los Angeles County is an unlikely locale for a high-stakes political squabble with international ramifications – but California seems to produce many strange imbroglios." This article examines the controversial casino operated by Moskowitz in Hawaiian Gardens and what it means in terms of Middle East peace negotiations. It mentions the pressure Jewish and Latino activists are putting on California Attorney General Bill Lockyer to deny Moskowitz's application for a casino license.
---
Bingo bill unites unlikely coalition
by Gary Delsohn -- Bee Staff Writer
15 February 2002
Sacramento Bee

A Coalition-backed bingo reform bill would have eliminated some of the abuses of the bingo industry in California. Moskowitz's bingo club is a perfect example of a monopolistic establishment that prevents other charitable bingo clubs from surviving.
---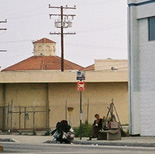 KCET Life & Times Transcript
by KCET - Los Angeles, CA
15 March 2000
Life & Times Tonight

Coalition coordinator Haim Dov Beliak explains how Moskowitz uses the Hawaiian Gardens bingo to thwart Israeli-Palestinian peace in this public television magazine show.
---
Letter to Western U.S. Rabbis About Irving Moskowitz
by Coalition for Justice in Hawaiian Gardens and Jerusalem
10 October 2000
correspondence

The Coalition sent this letter along with a copy of a video documentary about the negative impact of Moskowitz's gambling operations on Hawaiian Gardens and Jerusalem to Rabbis in the Western United States. The letter explains what Moskowitz has been doing in Hawaiian Gardens and Jerusalem and urges them to contact California Attorney General Bill Lockyer to request that he deny Moskowitz his casino license and revoke his bingo license as well.

"...we believe it's important for you to know what Irving Moskowitz is doing, both in Jerusalem and the small city in Los Angeles County, Hawaiian Gardens. It's important because he's doing it in your name! Moskowitz has access to influential politicians and acts as though he has the support of the entire Jewish community."
---